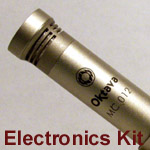 "...upgrade the inexpensive Oktava 012 mic from good to phenomenal"
Recording Magazine
The modification replaces all the critical electronic parts with higher quality parts, making a good microphone sound even better. It improves the high and low end response, detail, and lowers the noise level. If your microphones are not in good working order before the modification there may be an reasonable additional repair charge. The repair fee will range from $15 to a max of $54, depending on the complexity of the repair.

If you would like to do the modification yourself, all the parts are available in kit form with complete instructions

Brand new 012 mics benefit just as much as older ones.
On searching the Internet I find a significant amount of confusion on this topic. Many speculate that brand new 012's have all the improvements already incorporated, so the modification will have no effect on performance. This is simply not true. Here are the facts, based on years of experience working with these microphones. New mics have two basic changes in addition to serial numbers. (1) New mics are slightly longer to accommodate a new style XLR base. (2) Oktava no longer uses any wet-slug capacitors in the 012. Old mics typically used wet-slug caps for C3, C4, and C5, and sometimes even C2. These wet-slug caps are prone to leakage and can even damage the circuit board. Most new mics use BBC caps, like the ones in the kit, for C3, C4, and C5. But beware; even brand new mics can use different brands of lower quality and various values. The majority of the sound improvement comes from the changes on the front of the board, where Oktava has made no improvements. In fact I see more variation of factory parts than on older mics. So YES, the sound improvement from modification is just as evident on new mics as older ones!
The modification is only for true Russian made Oktava's. True Russian Oktava 012's came with the 10db pad and the metal mic clip and can be labeled MC or MK 012. Only newer ones (2002) have serial numbers. Click HERE for more info on fake Oktava 012's.

Good soldering skills are required to perform the modification, especially the premium mod. The Circuit board is small and delicate and can be easily damaged. If you do not feel comfortable doing the modification yourself, you should send your mic(s) in for modification.

A difference you can Hear!

"Greetings from Australia.Thought i'd drop you a line and confirm the 012 mod is a must for all 012's .It's cheeze & chalk difference!! .Amazing clarity compared to the original .I will not be parting with these mic's ever.Even the tech who did the mod was amazed!!In fact i might buy 2 more Oktava 012's and respective mod kits regards Robert b Dillon Aria Award winning Recording Engineer:Blues&Roots. Melbourne Australia"

Robert B. Dillon

"
Just got the mod today and installed it 5 minutes ago. First I made a mistake and put the tantalum cap wrong way, but then realized it and corrected it. Results: Wow!!! I made a "before" recording and "after" recording and the honky mid and not well defined bass is gone!!! I have recorded it through a nice Avedis preamp and it sounded beautiful!! Very balanced, especially the mid and bass is much more beautiful now!..Thanks ;)"
Emre
"One thing is for certain, these little mics sound great now and are far more useful. In some cases, I might even go to them instead of my KM184s."
Joseph Bregande
"
The kit contains the following parts, individually packaged and labeled:

The kit includes all parts required for standard modification of the Oktava MC012 or MK012.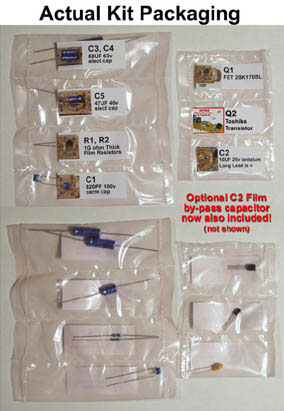 R1

- 1G Thick Film Resistor

R2 - 1G Thick Film Resistor

C1 - COG ceramic capacitor

C2 - Tantalum capacitor

(C2 Film by-pass capacitor now also included!)




C3

- electrolytic capacitor

C4 - electrolytic capacitor

C5 - electrolytic capacitor

Q1 - Toshiba Audio FET

Q2 - Toshiba transistor

Instructions

---
US domestic shipping is FREE regardless of the number of kits purchased. Available to addresses worldwide: International shipping is a fixed $15 regardless of the number of kits purchased.

For the modification service, return USPS Priority Mail shipping is a fixed $12.50 for the first microphone and $5 for each additional microphone. This includes $250 insurance for each microphone. The modification service is available internationally, please send an email for a return shipping estimate.


Sales tax added to sales in Massachusetts.


If you do not want to use the shopping cart please send an email.